Blues Summit 11
Blues Summit 11
---
ARTISTS SHOWCASE LINE UP SCHEDULE  PANELS DROP BOXESPARTNERSKEYNOTE SPEAKER DELEGATES
---
FEBRUARY 9 – FEBRUARY 12, 2024 
All Blues Summit 11 events and panels will be at The Chelsea Hotel in downtown Toronto, ON Canada from February 9 – 12, 2024. The Summit will close with the 27th Annual Maple Blues Awards February 12th 2024
---
SHOWCASE ARTISTS
 To be announced mid October 2023
---
SHOWCASE LINE UP
Friday February 9
8:00pm
8:30pm
9:00pm
9:30pm
10:00pm
10:30pm
11:00pm
11:30pm

Saturday February 10
8:00pm
8:30pm
9:00pm
9:30pm
10:00pm
10:30pm
11:00pm  
11:30pm 
Sunday February 11
11:00am
11:30am
12:00pm
12:30pm
8:00pm
8:30pm
9:00pm
9:30pm
10:00pm
10:30pm
11:00pm
11:30pm
---
                              FULL SCHEDULE
Coming Soon
---
SCHEDULE AT A GLANCE
OPENING RECEPTION: Friday February 9, 2024  4pm Churchill Ballroom
KEYNOTE ADDRESS: Friday February 9, 2024  4pm Churchill Ballroom
B2B SPEED PITCH: Showcase artist one-on-one's with Blues Summit talent buyers. Appointments are based on availability. Sat February 10 & Sun February 11 2:3p0m-5:30pm. These will take place in The Churchill Ballroom. Preregister is mandatory info@torontobluessociety.com
FORUM | FESTIVALS RENDEZVOUS:  Mon February 12,  12:30pm-1:30pm.
MENTORSHIP ONE-ON-ONE'S: An opportunity to register for face-time with industry professionals to get advice and guidance. Sessions are limited to 10 minutes and sign-ups will take place in advance at the Registration Desk only. *Note: This is not a pitch. Please prepare in advance by researching each mentor and reading their bios. Mon February 12,  2:30pm-4pm.
---
PANELS
Coming Soon
---
PARTNERS
---
DROP BOXES
Drop boxes are free receptacles requested by radio hosts, journalists, artistic directors, and other industry "buyers" who are seeking new music. Those looking to book artists, write reviews or discover music for a radio show or station are encouraged to request a drop box where artists, agents, and managers will place promotional packages (ex. CD/one-sheet). Each drop box is personalized and artists/managers/agents can select.
Key delegates (artistic directors, media representatives, radio hosts, journalists, etc) can request a dedicated "drop box" that will be used to collect CD submissions from musicians, managers and agents throughout Blues Summit 11. Drop boxes can be accessed through the Registration Office (Gerrard Room) for the duration of the conference. Musicians and showcasing artists are invited to place a CD in the boxes of any key delegates who they would like to share their music with.
---
KEYNOTE SPEAKER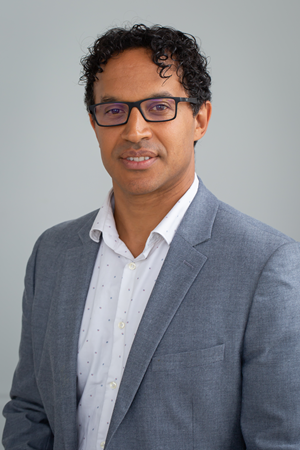 Michael Murray was appointed CEO of the Ontario Arts Council (OAC) in July 2022. He brings wide-ranging leadership experience in the professional not-for-profit arts sector and cultural industries provincially, nationally and internationally.
Michael returns to OAC from the Alliance of Canadian Cinema, Television and Radio Artists (ACTRA) where he served as director of ACTRA Performers' Rights Society, Canada's largest performers' rights organization.
From August 2015 to February 2021, Michael was executive director for the Toronto Musicians' Association, Local 149 of the American Federation of Musicians of the United States and Canada, representing 2,900 members in labour relations and advocacy.
Between 2007 and 2015, Michael was OAC's popular & world music and arts service organizations officer. His outreach efforts during this time led to significant increases in applicants and grant recipients from Indigenous and racialized communities.
He began his career as a professional musician, producer and songwriter in Montreal. Later, he was named executive director of UrbanArts, a community arts council in Toronto that focuses on engaging youth facing socioeconomic barriers in community building through the arts.
In 2007, Michael was an accompanying delegate on the State visit to Brazil by Michaëlle Jean, former Governor General of Canada, making international connections on technology and social change in the arts. He was an inaugural member of the Canadian chapter of the National Black MBA Association.
Michael graduated in 2007 from the Schulich School of Business (York University) MBA program with a specialization in Arts & Media Management. He is also a Chartered Professional Accountant (CPA) and holds an Honours Bachelor of Music from McGill University.
Keynote Address will take place on Friday February 9 at 5pm
---
BS10 DELEGATES
| | | | | |
| --- | --- | --- | --- | --- |
| NAME | COMPANY / BAND | CITY | PROV | COUNTRY |
| | | | | |
| Gerhard Lindner | BluesFest Eutin | Eutin | | Germany |
| Rita Lindner | BluesFest Eutin | Eutin | | Germany |
| Trond Johnsen | TJ Concerts | Oslo | | Norway |
| Bartek Szopinski | Blues Festival Express | Warsaw | | Poland |
| Jeff Davis | Playing With Fire | Omaha | NE | USA |
| Vanessa Bauer | Playing With Fire | Omaha | NE | USA |
| Emily Burgess | Playing With Fire | Omaha | NE | USA |
| Maggie Ebert | Playing With Fire | Omaha | NE | USA |
| Brad Hunt | The WNS Group | Lyndonville | NY | USA |
| Cindy McLeod | Calgary Blues Festival | Calgary | AB | Canada |
| Cam Hayden | Edmonton Blues Festival | Edmonton | AB | Canada |
| Marcus Trummer | Marcus Trummer | Calgary/Toronto | AB | Canada |
| Kat Danser | Kat Danser & The Tall Tales | Edmonton | AB | Canada |
| Doug Cox | Vancouver Island Musicfest | Comox | BC | Canada |
| Andre Bisson | Andre Bisson | Delta | BC | Canada |
| Ann Vriend | AV and The Inner City | Edmonton | BC | Canada |
| Jackie Moisan | Nanaimo Blues Festival | Nanaimo | BC | Canada |
| Kevin Tobin | Salmon Arm Roots & Blues | Salmon Arm | BC | Canada |
| Harry Manx | Harry Manx | Salt Spring | BC | Canada |
| Ken Simms | Think Tank | Delta | BC | Canada |
| Blake Johnston | Campbell & Johnston | Halifax | NB | Canada |
| Christine Campbell | Campbell & Johnston | Halifax | NB | Canada |
| Catriona Sturton | Catriona Sturton | Lunenburg | NS | Canada |
| Charlie A'Court | Charlie A'Court | Dartmouth | NS | Canada |
| Derek Andrews | Toronto Blues Society | Toronto | ON | Canada |
| Manny DeGrandis | Toronto Blues Society | Toronto | ON | Canada |
| Glenn Smith | Toronto Blues Society | Toronto | ON | Canada |
| Lucie Dufault | Toronto Blues Society | Toronto | ON | Canada |
| Jordan Safer | Toronto Blues Society | Toronto | ON | Canada |
| Ayse Barut | Toronto Blues Society | Toronto | ON | Canada |
| Amadeus Wheesk | Toronto Blues Society | Toronto | ON | Canada |
| Mike Smith | Toronto Blues Society | Toronto | ON | Canada |
| Brenna MacCrimmon | Toronto Blues Society | Toronto | ON | Canada |
| Sandra Bouza | Sandra Bouza | Toronto | ON | Canada |
| Larry Kurtz | Orangeville Blues & Jazz Festival | Orangeville | ON | Canada |
| Norma Bailey | Orangeville Blues & Jazz Festival | Orangeville | ON | Canada |
| Rick Clarke | Lighthouse Blues Fest | Kincardine | ON | Canada |
| Marilyn Clarke | Lighthouse Blues Fest | Kincardine | ON | Canada |
| Claude Cloutier | Kitchener Blues Festival | Kitchener | ON | Canada |
| Sarah Kim Turnbull | Markham Jazz Festival | Markham | ON | Canada |
| Jan Macdonald | Limestone City Blues Festival | Kingston | ON | Canada |
| Dan Mistrada | North Bay Blues Festival | North Bay | ON | Canada |
| Bill Gibbons | West Coast Blues Festival | Goderich | ON | Canada |
| Mike McCann | Canada South Blues Society | Windsor | ON | Canada |
| Chuck Jackson | Southside Shuffle | Port Credit | ON | Canada |
| Kathy Mulgrew | Wasaga Beach Blues Festival | Wasaga Beach | ON | Canada |
| Gabor Szepesi | Wasaga Beach Blues Festival | Wasaga Beach | ON | Canada |
| Bill King | Beaches Jazz Festival | Toronto | ON | Canada |
| Steven Taetz | Harbourfront Centre | Toronto | ON | Canada |
| Diana Webley | Harbourfront Centre | Toronto | ON | Canada |
| Heather Luckhart | Heather Luckhart | Toronto | ON | Canada |
| Rodrigo Fritz | Massey / Roy Thomson Hall | Toronto | ON | Canada |
| Shakey Trill | Shakey Trill | Saugeen Shores | ON | Canada |
| Shawn Kellerman | Zoom with Shawn Kellerman | Kitchener | ON | Canada |
| Spencer Mackenzie | Spencer Mackenzie | Ridgeway | ON | Canada |
| Tony D | Tony D Band | Ottawa | ON | Canada |
| Trish Walker | Tony D Band | Ottawa | ON | Canada |
| Lance Anderson | Lance Anderson and NOLA Parish | Toronto | ON | Canada |
| Johnnie Tibbles | Sault Ste. Marie Blues Society | Sault Ste. Marie | ON | Canada |
| Jim Jones | Zapp Productions | Killaloe | ON | Canada |
| Lori Murray | Music By The Bay | Uxbridge | ON | Canada |
| Peter North | Dead Ends Festival | Edmonton | ON | Canada |
| C.J.Lee | C.J.Lee | Exeter | ON | Canada |
| Erin McCallum | Erin McCallum | GTA | ON | Canada |
| Sam Taylor | Little Magic Sam | Toronto | ON | Canada |
| Lyle Odjick | Lyle Odjick | Ottawa | ON | Canada |
| Mike Nagoda | Mike Nagoda & the Spectrum Blues Band | Toronto | ON | Canada |
| Suzie Vinnick | Suzie Vinnick | Toronto | ON | Canada |
| Nesrallah Artuso | Nesrallah Artuso | Ottawa | ON | Canada |
| Meghan Parnell | Bywater Call | Toronto | ON | Canada |
| Dan McKinnon | Dan McKinnon | Toronto | ON | Canada |
| Adena Stocker | Treasure Molly House of Music | Toronto | ON | Canada |
| Miss Emily | Miss Emily | Amherstview | ON | Canada |
| Margie Bailey Phieffer | Miss Emily | Amherstview | ON | Canada |
| Bonnie Baker | | St. Catherines | ON | Canada |
| Jan MacDonald | Limestone City Blues Festival | Kingston | ON | Canada |
| Esther Fairbairn | Sanderson Entertainment Law | Toronto | ON | Canada |
| George Braumann | The Blues Miners | Toronto | ON | Canada |
| Jay Moonah | Broke Fuse | Toronto | ON | Canada |
| Dan Popadiuk | Horojo Trio | Ottawa | ON | Canada |
| Nicole Rochefort | Artists in Motion | Toronto | ON | Canada |
| Sarah Porter | Porter Music Mgmt | Ottawa | ON | Canada |
| Peggy Voigt | Peggy Voigt | Carryibg Place | ON | Canada |
| Thomas Hanes | TLH Concerts | Toronto | ON | Canada |
| Julie Hill | CIUT | Toronto | ON | Canada |
| Michael McCann | Canada South Blues Society | Windsor | ON | Canada |
| Mort Goss | Ktown Music | Kenora | ON | Canada |
| Lisa Szepaniak | 265 | Waterloo | ON | Canada |
| Kathy Mulgrew | Stonebridge Wasaga Beach Festival | Wasaga Beach | ON | Canada |
| Jason Sewerynek | Jim Dan Dee | Brampton | ON | Canada |
| Denis Paquin | Ottawa Blues Society | Ottawa | ON | Canada |
| Debra Thorington | Ottawa Blues Society | Gatineau | QC | Canada |
| Dave Brennan | Ottawa Blues Society | Gatineau | QC | Canada |
| Michael Jerome Browne | Michael Jerome Browne | Montreal | QC | Canada |
| Gabriele Cote-Lebreux | Endrick and The Sandwiches | Montreal | QC | Canada |
| Adam Karsch | Adam Karsch | Montreal | QC | Canada |
| Yannick Lambert | Donnacona Blues Festival | Quebec City | QC | Canada |
| Stephanie Dube | Donnacona Blues Festival | Quebec City | QC | Canada |
| Kevin Harvey | Durham County Poets | Ormstown | QC | Canada |
| Endrick Tremblay | Endrick & the Sandwiches | Montreal | QC | Canada |
| Brian Slack | Tremblant Intl Blues/Trois Rivieres | Mont Tremblant | QC | Canada |
| Guy Belanger | Guy Belanger | Montreal | QC | Canada |
| Justin Saladino | Justin Saladino Band | Montreal | QC | Canada |
| Paul Delauriers | Paul DesLauriers Band feat. Annika Chambers | Montreal | QC | Canada |
| David McCabe | | St-Urbain Premier | QC | Canada |
| Greg Torrington | Stingray Muisc | Montreal | QC | Canada |
| Annika Chambers | Paul DesLauriers Band feat. Annika Chambers | Montreal | QC | Canada |
| Rob Lutes | Rob Lutes | Montreal | QC | Canada |
| Jack Semple | Jack Semple | Regina | SK | Canada |
| Stan Budgell | Saskatoon Blues Festival | Saskatoon | SK | Canada |
| Al Wood | Saskatoon Blues Society | Saskatoon | SK | Canada |